Career Support
home > essences main menu > prosperity & success > > product information > FAQ's
How do you feel about your job? Intelligence and technical skill account for only 25% of success. The other 75% responsible for success comes from how you process the world. It is your beliefs, values, behaviour, attitude, enthusiasm, attention, and optimism that really matters most! Once you have internal success (waking up each morning happy and feeling a sense of purpose), external success has to follow
You can't be miserable and complaining 90% of the time and expect to feel passion and fulfillment! In fact, the frequency of complaining actually counteracts the frequency of abundance!
These transformative essence fusions can help you in a multitude of ways, whether you are a CEO wanting have better focus, a health care worker trying to hold your balance while you support your clients, a person who aspires to greater success and wealth, or someone who wants to attract abundance and prosperity
For additional career assistance see Self Confidence and Stress Relief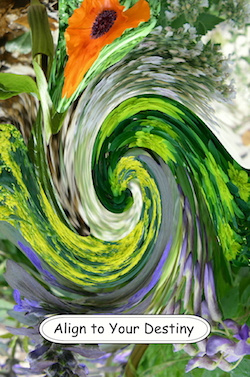 "Align to Your Destiny"
To feel truly successful and fulfilled, your life has to reflect your spiritual truth and your passions. That is why identifying your passion and purpose is so important!
"I felt and experienced improvements when using I Am Deserving and have just finished the wonderful Align to your Destiny, which I feel has been the most powerful for me so far." Nina L UK
This essence is like an open sail that draws you to your destiny and spiritual purpose to help you enjoy true fulfillment. It strengthens your will to make choices more in alignment with your highest spiritual intention. It addresses unconscious past life issues and karma that are preventing you from stepping into your destiny, and enables you to receive on all levels. And, it connects you with your childhood interests and passions--the biggest key to your destiny
"I absolutely loved the positive effect the spiritual shift (Align to Your Destiny) essence had. It's simply amazing....I can't say enough to describe its powerful effects. The nice thing is that it also seems gentle for enabling such change ... I am noticing I am less resistant to opportunities that in the past I would've been too shy to experience. I am also more trusting that the outcome of things will be more positive. It's effective alright, and you are correct that it keeps working even after you stop using it." Terry M Reiki Master Ft Erie ON
Denials in finding your destiny are sometimes merely karmic delays. Sometimes, we need to develop more life skills and practical balance before we can go back to the things that we love and what makes our heart sing. Then we can become truly successful and fulfilled
This powerful formula can be life-altering in the internal shifts it gently helps to facilitate!
Don't forget that finding your calling and acting on your inspiration is only half of the formula. The key to becoming successful doing what you love lies in being fully aware of what you really desire as reward for your work. So, always follow up with 'abundance' products such as I AM DESERVING, ABUNDANCE, FLOW or SUCCESS
Use for 21 days
30 ml $30 ~ 60 ml $50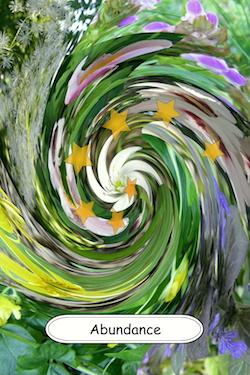 "Abundance"
Blessings in a bottle! Clears emotional blockages, patterns and limitations that prevent uninhibited receiving of opportunities, goodwill, luck, success, money, and blessings. Opens you to receiving on all levels
"I must say I've had a positive experience with the essences. I got a new job that ended up being better than my last one in many ways. The Abundance essence became very powerful." Alycia W Toronto ON
Stops struggle and helps you forge ahead. Attracts luck, goodwill from others, as well as benefits and rewards both tangible and intangible by aligning with your own personal value system
"I purchased Abundance and Open Door to Co-Creation for myself and they have been amazing. They really create a sense that everything "will be just fine" financially. And, that feeling is essential for taking positive action in the world to improve one's situation" Michael G Maine USA
The ability to attract abundance is impeded by feelings of guilt, resentment, defensiveness, or lack of forgiveness. These negative feelings develop as we interact with others each day
To remain clear and ensure lasting abundance, take your remedy for 21 days. Then repeat Abundance for 3-5 days every 4-8 weeks to keep yourself clear and unencumbered
21 days + repeat once a month for 3-5 days
30 ml $30 ~ 60 ml $50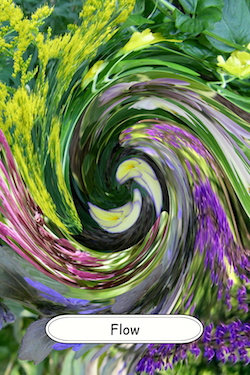 "Flow"
Restores flow of universal connection when you feel disconnected, stuck, stalled, blocked, or 'off your game'. Helps to release resistance, frustration, fear, worry, guilt, and resulting shoulder tension and neck stiffness. Calms your mood, releases feeling stuck or thwarted, and creates inner balance with energy to act. Places you in 'the zone' to use the law of attraction
"I have already noticed an improvement in my mindset and well being from the Flow and Restore essences I have started using." Holly J Sarasota FL
Flow is also ideal for those days you don't have time to meditate. It helps you maintain inner balance and universal connectedness
Use as needed
15 ml $15 ~ 30 ml $30 ~ 60 ml $50
"Success"
Helps you to feel capable, competent, organized and motivated. SUCCESS creates a compelling, motivating energy that helps you feel like you can achieve anything! Confidence inspires success!
21 days + repeat once a month for 3-5 days
30 ml $30 ~ 60 ml $50

Career Support Pack
3 powerful essences to help you handle stress, challenges and negativity with ease so you can stay calm, focused and centred
.Stress Buster to help you handle stress with grace and ease 30 ml
.Shield places an energetic shield of protection around you to deflect the harmful, draining energies of toxic negative people. Fortifies boundaries and helps you feel stronger. 30 ml
.Success Helps you to feel confident, motivated and organized 30 ml
$90 value $80 (Save $10)

*Individual bottles of your favourite remedies may be re-ordered in any size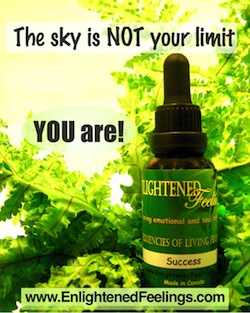 Prosperity Pack
A 4-step process to attract abundance and possibilities!
"Thank you for making such a lovely product! I believe I got my current job (which has been a wonderful step for me) as one of the outcomes of completing the Prosperity Pack. I always enjoy feeling the shifts and growth in my life that result from these essences. They help me feel supported." Vanessa B Seattle WA
.I Am Deserving Begin with 'I Am Deserving' to help you feel worthy of having more 30 ml
.Abundance Next, remove energetic blockages in your energy field and become open to attracting and receiving blessings 30 ml
.Success Then instill motivation, confidence and organization to plan and succeed 30 ml
.Open Door to Co-Creation Effortlessly manifest whatever you gently envision 15 ml
$105 value $90 (Save $15)

*Individual bottles of your favourite remedies may be re-ordered in any size
Instills calm knowing, a firm assurance, resolve, and confidence in your spiritual purpose and chosen life path. Allows you the confidence to 'walk your talk' in your work and on your spiritual path
30 ml $30

"Proactive"
A light releasing essence fusion to help dissolve the unconscious blockages that cause you to procrastinate, vacillate, dilly-dally, and sabotage your own positive actions and progress. Suddenly your actions and impulse are awakened, and it becomes effortless to accomplish tasks
Works best after 3 days
Use for 3 days or longer, as needed
30 ml $30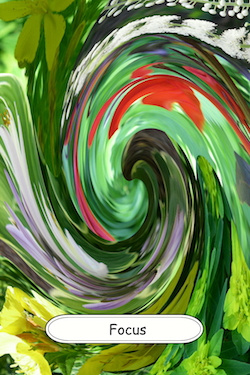 Increases brain hemispheric integration and balance, sharpens focus, and assuredness. Increases calmness. FOCUS reduces stress by helping to place you 'in the present moment' to allow processing and integration of your environment and situation
FOCUS can benefit executives, students and those undergoing job interviews. This essence remedy can also be helpful following stroke or brain injury
For handling the stress of study and writing exams or SAT's we recommend RESCUE & REVIVE
*Our products contain 1 drop of alcohol per dose
Use for 3-5 days as needed
15 ml $15 ~ 30 ml $30 ~ 60 ml $50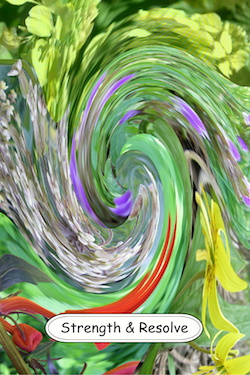 Creates an 'I can do this" resolve for overcoming inertia, breaking old habits or clearing clutter
Helpful when you just don't have the strength or will to leave that unsatisfying job or bad relationship
A good companion for 'Breaking Bad Habits'
Use 1-2 times a day for 3-5 days when needed or 21-66 days for support in breaking bad habits
30 ml $30 ~ 60 ml $50

"Support"
Created especially for those who work selflessly in support of others, which results in feeling drained and burdened. Helps to instill a sense of comfort, strength, and feeling replenished and supported
Good for those caring for in nursing, FACS, or PSW roles. Also very beneficial for those who feel burdened or overwhelmed by excessive work projects, deadlines, or personal challenges. Helps to replenish, instill calm feelings of being capable, and a sense of 'I can handle this'. Relieves backache caused by feeling unsupported
Use 3-5 days whenever needed
15 ml $15 ~ 30 ml $30 ~ 60 ml $50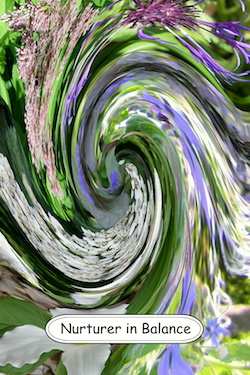 Helps you hold your balance as a natural nurturer.
Helpful for health professionals and spiritual healers who are always looking after everyone else's needs except their own!
Nurturer in Balance is ideal for those in nurturing professions, such as nurses, alternative healers and empaths, and for those who tend to be 'rescuers' and want to 'fix' or help everyone
Nurturer in Balance gently stops you from over-nurturing, from
mentally and energetically
taking your work home with you, and from 'rescuing'. It instills the balance and perspective needed to stop you from being a selfless martyr and prompts you to look after your own needs while you help others
Nurturer in Balance may also assist with weight issues that result from constantly absorbing the unhealthy energies of others
Use for 3-5 days as needed
"Adapt to Change"
A wonderful remedy that assists you to move on, adapt, and accept change gracefully and effortlessly. Helpful when relocating, on the first day of a new job, when your work role changes and feels challenging, or for any circumstance that is new and unfamiliar
"When I am in unfamiliar circumstances, I feel scared and want to do what I know. The flowers gave me confidence and security about my decision. I didn't look back. I was ready for my new adventure!" Gabriella P St Catharines ON
Use for 3-21 days
15 ml ~ 30 ml $30 ~ 60 ml $50

"Empowerment"
Feel uplifted as you step into your authentic power. End the cycle of giving away your power by playing the rescuer or victim. Shift your energy from worrying about what others will think about you to what you know to be true about yourself. Stand up for yourself in all situations with compassion, not anger or defensiveness. Take charge of your own path and journey. Feel more disciplined, assertive, assured, and responsible
21 days + repeat once a month for 3-5 days
30 ml $30 ~ 60 ml $50

"Uplifting Confidence"
Instills feelings of calm self-assurance. Ideal for those who need to deal graciously but confidently with the public or co-workers, such as health care workers, call centre workers, and customer care workers
21 days + repeat once a month for 3-5 days
30 ml $30 ~ 60 ml $50

Empowerment Trio
3 powerful essence formulas to help you to be your very best at work!
.Stress Buster helps you to handle stress with grace and ease! 30 ml
.I Am Deserving helps you to feel worthy of having more and achieving more 30 ml
.Success increases confidence, motivation, achievement, and organization 30 ml
$90 value $80 (Save $10)

*Individual bottles of your favorite remedies may be re-ordered in any size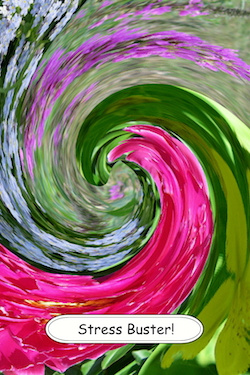 "Stress Buster!"
A must for the workplace! You can't be successful if you feel problems are bigger than you can handle!
Stress Buster! quickly and effectively relieves the mental effects of everyday stress while retaining mental alertness. Instills inner calmness and serene balance without losing focus or productivity. Lasts ALL day!
"I feel absolutely unflappable with the Stress Buster!" Ron M firefighter Niagara Falls ON
Use at bedtime to calm mental chatter and stress to allow more relaxed and restful sleep
Use as needed
30 ml atomizer $30 ~ 60 ml atomizer $50

"Clear & Protect"
Clear & Protect is very beneficial for those in customer service and healing or spiritual professions. But, it can help anyone who feels insecure or uncomfortable in the workplace
A MUST HAVE for anyone who works in emotionally draining situations, such as counselling or with clients in hospice, or health care. Helpful for teachers, holistic health professionals, funeral directors, psychics and intuitive readers, and medical professionals
Clear & Protect balances, nourishes and strengthens your energy field from the inside out, radiating a higher frequency that clears your field of negative or dissonant thoughts, feelings and energies to ensure you are at your very best when assisting others. Clears and protects those who inadvertently absorb the energies of their clients and those around them
Clear & Protect promotes a free-flow of intuition. You are better able to assist for the highest good of your clients, as well as to adapt and recover from your daily challenges
Clear & Protect offers you an effortless way to raise your vibration and the vibration of the planet! Works in minutes and leaves a light, happy positive feeling for up to 24 hours
Use as needed
30 ml @ $30 ~ 60 ml @ $50

"Shield"
Shield provides an invisible shield to protect you from negativity in the workplace or your environment. It helps to shield you energetically from bullying, or 'toxic' clients, co-workers or students. It also provides protection for those who are ultra-sensitive to EMF's, computers, and environmental stimulus
"I find it soooooo helpful throughout the day when I am around a school full of teenage kids!!!" M K Teacher St Catharines ON
Shield helps to counteract inexplicable anxiety brought on by close encounters with others or their psychic debris. It is ideal for those who have to be in workplaces or situations that are not aligned with your personal and spiritual values
Use as needed
30 ml @ $30 ~ 60 ml @ $50

"Rescue & Revive"
Keep it in your desk drawer for emergencies such as accidents, conflicts, public presentations, or getting fired!
This emergency essence is a grounding, calming stabilizer when administered following any shock to your system. Its calming, grounding qualities make it wonderful for restoring mental stability and calm balance during anxiety or panic attacks, following arguments or other emotional traumas, or to recover from shock following an accident, fall or fright
Helpful to increase focus and grounding and when taken shortly before tests or exams, job interviews, or public speaking. Helps promote a feeling of peace, well-being, grounding and clarity
Use as needed
15 ml $15 ~ 30 ml $30 ~ 60 ml $50