What you need to know about our enhanced organic living flower essences to help with your selection
Our products really aren't flower essences at all! They are living flower frequencies captured from wild and organic flowers!
Our methods are exceptionally kind to the plants and 100% sustainable for the environment! We don't pick the flowers. We don't extract chemical compounds, pollen, or nectar from the flowers. We don't steep the flowers in water like traditional flower essences. We capture their light photons and consciousness without killing or harming the plants in any way.
We also heighten, concentrate, and enhance the overall quality of the plants' own frequencies. That's why our flower frequencies are more coherent and their life force energy is so much stronger and more effective than traditional flower essences
We synergistically blend our individual flower frequencies together using 'energy-field formulations' to create our amazing living essence fusions. Each unique essence fusion contains 3-9 individual living flower frequencies thoughtfully blended into one harmonic formula to address multiple aspects of a specific state of being....heartbreak, self judgment, stress, guilt, abandonment, etc. Think of it as a melody your heart wants to feel and hear ... an orchestra playing beautiful natural frequencies your body is longing to dance with
Our essence fusion remedies are field-tested to ensure efficacy across a broad range of situations and personality types. Feel mental shifts begin immediately (or after just a few days when the issue is deep and persistent). But, remember habitual behaviours are hard to break! Continue to take your essence fusion for 21 days or longer to ensure your old mental habits are completely overwritten and less likely to return
When working with deep issues, you will complete one essence fusion at a time in a protocol: First, take out the old control patterns, emotional hurts, and negative habit patterns. Then replenish your psyche and replace the old ways of thinking and feeling with more positive thoughts and and feelings. Full instructions are provided with each essence remedy.
Learn more about our unique flower frequencies
Browse through more than 100 different essence remedies covering a vast range of complex emotional issues, along with essence fusions just to help you feel clear, happy and carefree. Whether you want to heal your broken heart, transcend childhood trauma and abuse, become more empowered and successful, or feel more attractive and sexy, we have the perfect essence fusion for you! Simply click on the essence category of your choice in our drop-down submenu in the Index under Our Products ...
We also have special essence remedies for children and teens, as well as pets and horses!
Alcohol warning! Enlightened Feelings living flower essences are preserved with 5% premium grain vodka. Drops are administered in 4 oz water. This amounts to only 1 drop of alcohol per daily dose. For those with religious beliefs, alcohol addictions, pregnancy, drug testing, or medical contra-indcations, we recommend adding your dose to water and let it sit for 1/2 hour before drinking so that the alcohol has evaporated
Essence fusions are divided into 6 different categories based on their use ....
1) Topical essences (atomizers) These are used as needed and can be administered with other essences
2) Essences used as needed (such as those for protection, pain, stress, or simply to feel good). These can also be used in conjunction with other essence fusions
3) Essences taken for intervals of 3-5 days When an issue is recent or new and has not become an ingrained habit pattern you only need to take it for a few days. You can also use an essence fusion short-term when you are simply aiming for a quick 'feel-good' state of being. In these cases, only a few days are required to to raise your vibration to the desired level
4) Essences are taken for 21 days or longer when you need to overwrite the past to change an ingrained habit or thought pattern. 3 weeks is the length of time needed by 55% of people to permanently overwrite habit patterns and instil new, more positive behaviour responses. (About 5% of people need up to 66 days!) Each 30 ml bottle of essence provides 21 daily doses
5) Essences that address issues of conscience, such as Forgiveness, Self Esteem, Guilt Release or I Am Deserving, require 21 days to overwrite all past experiences. However, we cannot overwrite your future. Life will happen ... your new experiences will be influenced by your perceptions, moral values and conscience. So, we recommend repeating 'conscience remedies' for 3-5 days once a month to ensure a negative belief does not turn into an ingrained habit pattern again. We offer these types of essences in both 21-day (30 ml) and 40-day (60 ml) sizes
6) Long-held deeply ingrained patterns such as control issues, addictions, prolonged deep grief, family karma, PTSD, and sexual or physical abuse or victimization can take 42-66 days to completely dissolve. Keep in mind that taking our essence fusions for 66 days is equivalent to 400 days of trying to change a mental habit pattern on your own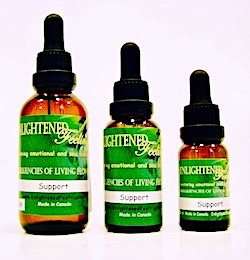 Prices are in CANADIAN currency
Essence Fusions 15 ml dropper (10 doses) @ $15 ~ 30 ml dropper (21 doses) @ $30 ~ 60 ml dropper (40 doses) @ $50
Topical Essence Fusions 30 ml atomizer @ $30 ~ 60 ml atomizer @ $50
Self-Customized Essence Formula Choose up to 6 single essences and we will blend them into one 30ml formula for you $40
Custom Essences 30 ml @ $60 60 ml @ $90 Learn about our helpful custom testing
We accept Visa & Mastercard. Debit credit cards cannot convert international currencies to Canadian. We cannot process your purchase
You can also pay by E-Transfer (Canada only) or money transfer through Wise (USA)
Not sure what you need? Order a set of our TESTING CARDS featuring 76 of our living flower essence fusions in full colour on 3.5" X 5" durable cards. Each card holds the frequencies of an essence fusion and has a full description on the back to help you pinpoint the right remedy for your needs. There are multiple ways of using the cards on yourself, to test others, and for divination. Instructions are included
Just $29.98!

SHIPPING:
USA: $30 (1-3 30ml bottles) $33 (4-12 30 ml bottles)
Canada: $19-$30 expedited incl HST (1-9 bottles) depending on province and postal code
Express Shipping to UK: $49.50 (1-3 bottles ) $54.50 (4-12 bottles)
Express Shipping to Australia: $77 (1-3 bottles) $87 (4-12 bottles)
Fuel surcharges affect the price of shipping weekly
To help offset shipping costs, we offer a 10% discount on orders of 3 or more bottles of essences. Discounts are already applied to sets of essences. To activate your discount use the code 3PLUS
Our products are private brand label. They not sold in stores or other retail settings. We welcome wholesale orders from certified or licensed health professionals that have successfully completed our level 1 course ENLIGHTENED FEELINGS IN PRACTICE
Contact Us: Email tel: 1.519.586.2983
Caveat as required by Health Canada and FDA: For your protection and mine, the information contained on this website is provided as general and scientific information and is not intended as medical or psychological advice. Our products are designed as self-help tools to raise your own inner vibration to a more positive state. However, our products may sometimes influence physical issues as a side effect. Our products are not intended to diagnose or treat mental or physical health issues. Please see a qualified health care provider