Our Potentized Living Flower Frequencies
Find what you need by clicking a link ...
Stress & Anxiety Relief ~ Protection & Clearing ~ Feel-Good Essences
Heart-Healing Essences ~ Heal Your Pa st ~ Ch ildhood Issues ~ Trauma
Empowering Essences ~ Career Enhancement ~ Prosperity & Success
Self-Nurturing ~ Relationships (of all kinds) ~ Life Changes
Women's Issues ~ Bad Habits ~ Essences for Self Healing
Daily Life Essences ~ Spiritual Growth ~ Essences for Children & Teens
Essence Sets ~ Practitioner Essences ~ Practitioner Kits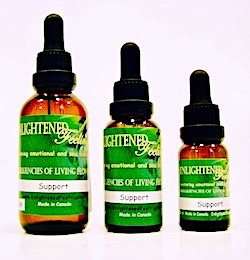 Single Essences 30 ml dropper (21 doses) @ $25
Themed Essence Fusions 15 ml dropper (10 doses) @ $15 30 ml dropper (21 doses) @ $30 60 ml dropper @ $50
Self-Customized Essence Choose up to 6 individual essences 30 ml $40
Custom Essences 30 ml @ $60 60 ml @ $90 Learn about our helpful custom testing
Topical Essence Fusions 30 ml atomizer @ $30 60 ml atomizer @ $50
Our living essence fusions are created using 'energy-field formulations'. We synergistically combine individual living flower frequencies together to address multiple aspects of a complex state of being. Essence fusions are extensively field tested to ensure efficacy across a broad range of situations and personality types. Use one essence fusion at a time to create the shift you desire. Feel mental shifts beginning after just a few days. Lasting results in 21 days. Full instructions are provided with each essence remedy
Enlightened Feelings living flower essences are preserved with 5% grain alcohol and administered in 4 oz water. This amounts to 1.5 drops of alcohol per daily dose. For those with religious beliefs, alcohol addictions, pregnancy, drug testing, or medical contra-indcations, we recommend adding your dose to water and let it sit for 1/2 hour before drinking so that the alcohol will completely evaporate
Our essence fusions and remedies are divided into 6 different categories....
1) Topical essences (atomizers)
2) Essences that are used as needed, such as those for protection, pain, stress, or simply to feel good
3) Essences are taken for intervals of 3-5 days when the issue is recent or new and has not become an ingrained habit pattern, or when you are aiming for a new, more positive state of being. In these cases, only a few days are required to to raise your vibration to the desired level
4) Essences are taken for 21 days when you need to overwrite the past to change your habit pattern. 3 weeks is the length of time needed by most people to permanently overwrite habit patterns and instill new, more positive behavior responses. (However, about 5% of people need up to 66 days!) Each 30 ml bottle of essence provides 21 daily doses
5) Essences that address issues of conscience, such as Forgiveness, Guilt Release or I Am Deserving, require 21 days to overwrite all past experiences. However, we cannot overwrite the future. Life will happen...and your future experiences will be influenced by your conscience. So, you need to repeat 'conscience remedies' for 3-5 days every few weeks to ensure a negative belief does not turn into an ingrained habit pattern. We offer these essences in both 21-day 930 ml) and 40-day (60 ml) sizes
6) Long-held deeply ingrained patterns such as control issues, addictions, sexual or physical abuse, and prolonged grief can take 42-66 days to completely dissolve
ORDER A TESTING SET OF ALL OUR LIVING ESSENCE REMEDIES! For home or professional use. Set contains 75 different topical and oral remedies in 65 mm single dose vials in a convenient table-top holder. Use kinesiology or dowsing to test for the best remedies for you or your clients! $159

SHIPPING: Shipping to US: $15-16 (1-3 30ml bottles)
Shipping to Canada: $14-20 incl HST for 1-6 bottles
Express Shipping to UK: $40 (1-3 bottles ) $49 (4-6 bottles)
Express Shipping to Australia: $60 (1-3 bottles) $64 (4-6 bottles)
2-6-day Shipping to Canada ranges from $13.25-$19.50 incl HST depending on the province and city (Toronto $14.25, Montreal $13.25, Calgary $21)
To help offset shipping costs, we offer a 10% discount on orders of 3 or more bottles of essences. Discounts are already applied to sets of essences. To activate your discount use the code 3 PLUS
We also welcome wholesale orders from certified or licensed health professionals. Please contact us

We are located on the south coast of Ontario Canada. We accept Visa and MasterCard only. Debit-credit cards cannot be used, as they cannot convert currency for international purchases. Please note: If you are ordering only 1 essence, shipping costs will add about 50% to the cost of the product
Contact Us: Email tel: (519) 586-2983