Our Living Flower Essence Practitioner Collection
"If we could see the miracle of a single flower clearly, our whole life would change." Buddha
Are you looking for a safe, effective catalyst for positive change for your clients? These premium quality single living flower frequency essences can be used individually or combined together to create your own custom formulas. Our living flower essences are wonderful tools for promoting clarity, transformation, equilibrium, transcendence, healing, integration, and unification
Each single living flower essence targets a specific issue. Enlightened Feelings living essences cannot be defined by a brief description. Their complex nature must be explored and experienced directly
Custom mix and create our practitioner-grade living essences as often as you need them! 2-6 essences can be combined together. Experiment and sample essences individually, or custom create your own remedies according to your clients' individual needs. Instructions included
Order a self-customized essence remedy and we will prepare it for you!
Save 20-60% with our do-it-yourself essence sets! Professional sets are available only to licensed health professionals. Our convenient essence sets allow you to experiment, sample one by one, and custom-mix remedies according to your clients' individual needs. Create your own custom formulas as often as you need them! Gain the power to help yourself or your clients to effortlessly create life shifts and achieve lasting happiness and freedom
Practitioners: Please email us or call 519-586-2983 for wholesale rates on our practitioner essences and essence fusion remedies
View our practitioner kits Save up to 60% off individual retail! Professional sets are available only to licensed health professionals
Learn about our comprehensive Home Study Program
Learn the science of flower essences FAQ's about flower essences Some of our clients' experiences
A B C D E F G H I J K L M N O P Q R S T U V W X Y Z
"Achillea Blanco" The frequency of elegant communication
Helps to clear the throat chakra. Supports those unable to articulate their thoughts and feelings. Helps you communicate things that are difficult for you to say. Helps eliminate frustration from not being able to understand others or be understood, thereby improving rapport

"Spoke to All My Cells - I had thought the Eloquence would be My Throat Solely - Not So - My Whole Non Verbal Connections Awakened - My Bodies became a Symphony - Immediately I felt attuned to My Own Special Melody" JE Chicago
"Agastache" The frequency of belonging
Opens and activates the higher heart center. Gently assists with feelings of abandonment, grief, or feeling alone or unloved, self-abandonment or separation from God. Helps to quickly neutralize emotionally-charged energies such as despair, outrage, disillusionment and anger. Helps you understand your feelings more clearly. Allows receiving of Source energy. Dissolves the unconscious belief that you don't have a right to be here. Allows you to feel. Adds joy and sweetness to life. A wonderful essence for people who are overly sensitive to the horrors of the world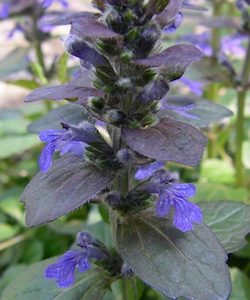 "Ajuga" The frequency of self-clearing to awaken your intuition
An important essence that grounds, centers & stabilizes you while it expands and clears your aura. Opens the 3rd eye to connect you to higher dimensions, higher self, and your intuition. Clears negativity and unwanted energies that collect in your auric field. Releases tension from being unconsciously guarded. Helps you transcend, release, and free psychic toxins and any past debts (invisible attachments) you still owe to others or others owe to you (ie karma, apologies, forgiveness, wrong-doings, etc).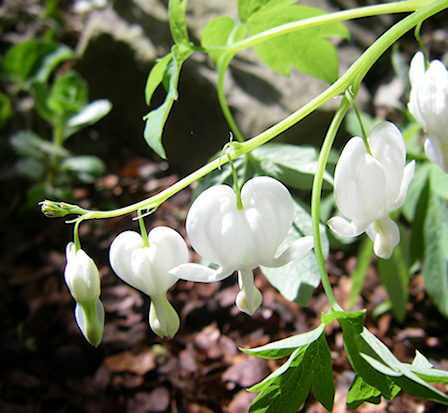 "Alba Dicentra" Frequency for purifiying the heart
Opens the heart to promote peace, calm, purification, forgiveness, generosity, heart healing, transcendence, and pureness of heart. Counteracts anger. High vibration of this essence may allow for miracles or transformation

"Allium" The frequency of enthusiasm and positive drama and flair
Dissolves the subconscious tendency to attract crisis, thereby seeing yourself as a victim of fate. Reverses the tendency to seek attention or recognition in negative ways such as dramatizing whatever happens in your life. Transmutes negative 'drama' energy into positive enthusiasm and inspiration. Releases peer consciousness or wanting to fit in and be like others. Allows you to be comfortable being unique, different, individual, and supports you to use your dramatic qualities in positive healthy ways. Balances zeal point chakra

"Amianthium" The frequency of graceful and loving self self acceptance
Releases deeply held self-punishment, self-sabotage, self-diminishment, and the belief that you must suffer for your mistakes or sins

"Anchusa Capensis" The frequency of thoughtful self-caring and loving self-nurturing
Invites you to be more self-caring, self-nurturing, and carefree. Helps you slow down, enjoy the moment, be enough, do what YOU need, look after yourself, and stop forcing things

"Anemone" The frequency of unshakable self-esteem
Promotes calm, poised, unshakable confidence, self-esteem, and self acceptance. Helps you feel competent, capable, and rooted. May release trapped energy in hips

"Aquillegia" The frequency of a balanced ego
Overcomes a sense of diminishment or worthlessness. Enables the ego to relinquish its hold. Addresses issues related to pride or vanity such as embarrassment, shame, humiliation, resentment, stubbornness, self-righteousness, or not being flexible. Stops venting of anger & impatience. Helps you to see other points of view, co-operate, adapt, be gracious, humble, and rise above. Helps release resentment causing inflammation and pain in knees

Also see Essence Testing Sets for Practitioners
next >