"I started with Flow for 3 days. Then I moved on to I Feel Blessed for 3 days. And now I am doing Love Magnet. I took Love Magnet only one day before departing to Dubai and then I didn't resume taking Love Magnet again until after I returned home a week later. When I tell you my trip was absolutely amazing and people, things and experiences were magnetically drawn to me, I am not exaggerating. It was magical. Even my best friend who was traveling with me was saying to me that she couldn't understand what or how but I had an energy surrounding me that has these things magnetized to me. She said whatever you are doing keep doing 'cause something is on you." Isis T Annapolis MD
"Clear & Protect"
Clear & Protect balances, nourishes and strengthens your auric field from the inside out, radiating a higher frequency that clears your energy field of negative thoughts, feelings and negative energies. Provides a buffer from the harmful effects of all types of negative energies, dissonance and EMF's that have no place in your energy field, allowing your clear energy field to radiate out to balance your environment and those around you. It's like a constant meditation, keeping you in balance, aware, attuned and connected to your higher self
By clearing the static and energy blockages from your energy field, Clear & Protect promotes a free-flow of intuition, which provides protection and discernment in another important way. Unimpeded, your vibration rises, allowing you to experience life from a higher perspective and a more balanced reality. You are better able to adapt and recover from your daily challenges
Clear & Protect offers you an effortless way to raise your vibration and the vibration of the planet! Works in minutes and leaves a light, happy positive feeling all day
"Clear & Protect is truly amazing !! The situation at work has not changed but I am not being affected by it. I remain happy …… focused …... and am able to keep my team positive as they "flounder" thru the night. I was really feeling it all before. Even considered quitting." Cyndi H Indiana
Clear & Protect is well suited to individuals beginning to open to higher consciousness, self-healing or spiritual transformation. It is also recommended for healers and psychics who unintentionally absorb the energies of their clients, as well as those who are sensitive or empathic and are easily knocked out of balance by absorbing the energies of those around them
Use as needed
15 ml @ $15 ~ 30 ml @ $30
Also available in Chakra Set and in Stress Relief Pack

"As a professional empath I find CLEAR & PROTECT invaluable in helping me determine which emotions are mine and what belongs to my clients. It also enhances my ability to accurately 'read' people without my own mental 'stuff' getting in the way. And it allows me to quickly let go of whatever I 'read' in people's energy fields without it lingering or affecting me. I use C&P almost every day. I always feel the difference within just a few minutes " Lori D'Ascenzo
"I love Clear and Protect, I take it orally, also made a spray with it which is amazing and have put it with an organic lotion mixed with essential oils. I also use it to cleanse my Vogel star of David pendant that I wear." DR TX
"I can't tell you how grateful I am for your essences. The relief of the past 3 days has been much needed and literally what I've been praying for. You are truly gifted. Thank you so much" Kathleen C Toronto ON
"Empath Attunement"
A powerfully transforming essence that begins by clearing deep subconscious karmic weaknesses which prevent you from fulfilling your empathic gifts and fully. The essence then goes on to prompt an inner evolution. You shift beyond the empathic ability to feel people's feelings and begin to move deeper to connect at the soul level where you feel and perceive people differently—with deeper compassion, neutrality, and detached understanding. At the same time as your energy moves outward, you are inwardly stronger, more balanced and stable, and feel secure in your power and protection
"The biggest change is I'm not bombarded with the thoughts and energy of other people anymore. I'm unaware of what they think of me. Nice." Evelyn R TX
Where previously your empathic abilities or introversion may have led you to feel insecure, anxious, or out of balance in social situations because you either sensed insincerity, were overwhelmed by sensory input, felt drained and out-of-sorts afterward, or felt no kinship with others, EMPATH ATTUNEMENT allows you to interact with others while feeling centred, confident and connected. Your energy remains strong and you do not feel drained or out of balance
This essence has also demonstrated an ability to clear hexes and curses
Use as needed for up to 7 days at a time
15 ml @ $15 ~ 30 ml @ $30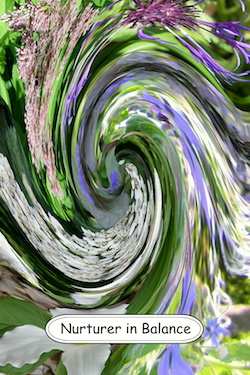 Helps you hold your balance as a natural nurturer. This essence fusion is so very helpful for alternative health professionals and spiritual healers who are always busy looking after everyone else's needs except their own! It is ideal for those in nurturing professions, such as nurses, alternative healers and empaths, and for those who tend to be 'rescuers' and want to 'fix' or help everyone
NURTURER IN BALANCE keeps you from being overly nurturing, from taking your work home with you mentally and energetically, and from 'rescuing'. It instills the balance needed to stop you from being a selfless martyr and prompts you to look after your own needs while you help others
NURTURER IN BALANCE may also assist with weight issues that result from constantly absorbing the unhealthy energies of others
Use for 3-5 days as needed
"Shield"
Shield provides an energetic shield to protect you from psychic attack, negativity, other people's emotional debris, and 'toxic' people. Specially designed to protect those who are ultra-sensitive and those who need energetic protection
It protects those who are easily exhausted or negatively affected by crowds and exposure to too many people. Also helpful for those who are ultra-sensitive to EMF's, computers, and environmental stimulus
Shield also helps dissipate negative thought processes. It helps to counteract anxiety and imbalance brought on by close encounters with others, which can be a blessing for introverts
"While taking Shield I found that I was able to stay disconnected from other people's emotions which was very nice!" Donna S OK
Now you can protect yourself (and your pets!) from those people in your life whose negativity leaves you feeling anxious, drained, or out of sorts. Groups or gatherings will no longer leave you feeling so overwhelmed or drained. You can even use SHIELD to energetically protect yourself during divorce or a bad relationship breakup
"The shield works amazingly" Lisa L Middletown CT
It is also very helpful when you have to spend time in workplaces or situations that are not aligned with your personal and spiritual values, or when attending group functions or funerals
Use as needed
30 ml $30 ~ 60 ml $50

"I have really been enjoying the essences! I noticed the effects of Shield IMMEDIATELY and I am ready to order more. I never ever want to run out!" Chyna W Mill Creek WA
Also available ... our more gentle versions of SHIELD for sensitive pets and children
Shield for Children 30 ml @ $30
Shield for Pets 30 ml @ $30
"Restore"
Very helpful for sensitive spiritual beings who are traumatized by social injustice and all the wrongs in the world, and are easily overwhelmed with feelings of helplessness to change anything. RESTORE re-balances, calms, and restores optimism and innocence that was lost
RESTORE dissolves chaos and static within the energy field when emotional trauma is experienced, and instills a feeling of smooth, expansive wholeness and joy. It instills supportive grounding and balance to keep you feeling solid and stable
Use as needed for hyper-sensitivity
Use for 21-66 days for PTSD
30 ml $30 ~ 60 ml $50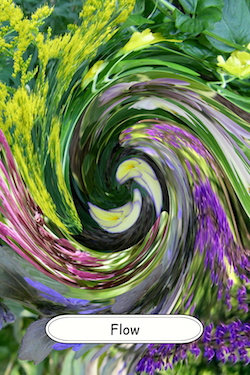 "Flow"
FLOW offers graceful mind-body-spirit harmony. Restores flow of universal connection when you feel disconnected, stuck, stalled, blocked, or 'off your game'. Helps to release resistance, frustration, fear, worry, guilt, and resulting shoulder tension and neck stiffness. Calms your mood and creates inner balance with energy to act. Places you in 'the zone' to use the law of attraction
Flow is also ideal for those days you don't have time to meditate. It helps you maintain inner balance and universal connectedness.
Use as needed
15 ml @ $15 ~ 30 ml $30 ~ 60 ml $50
"I have already noticed an improvement in my mindset and well being from the Flow and Restore essences I have started using." Holly J Sarasota FL
"Karma Clear"
A very powerful clearing and purging remedy that leaves you feeling free and unencumbered. Dissolves the negative effects from your past
KARMA CLEAR overwrites guilt, karmic debt, unforgiven past experiences, and unhealthy energetic ties to those from your past. It can even reach into past lives when needed
Karma Clear may also help to clear hexes or curses, including ancestral curses. Leaves you feeling clear and unimpeded
Use for 21 days. Repeat for 3-5 days once a month to dissolve new karma before it negatively impacts your life
30 ml $30 ~ 60 ml $50

"All I can say is "WOW!" This is some powerful stuff. Since day one so many changes have been happening in my life and they're all good. It's like this essence was a super charged high voltage that busted through the blockage." Daniel O Pico Rivera CA
"Soul Retrieval"
SOUL RETRIEVAL helps to dissolve the feeling that you need to be perfect in order to be spiritual. It helps reclaim fragmented or disowned aspects of self caused by accident trauma, sexual or physical abuse, deep emotional trauma, religious conditioning, perfectionism, misguided spiritual beliefs, or critical self-judgment. Helpful for those who have suffered an emotional trauma that has caused an internal disconnect. Helps you find joy in your own inner child
Helps overcome negative past life experiences that are sabotaging you in this lifetime. Helpful for those who reject or disown their own 'shadow self' or negative attributes. Re-integrates your whole self, including negative qualities you have rejected or disowned. Allows you to accept and integrate your negative qualities
Disowned aspects of self can sometimes appear as dark shadows or attacking entities. If shadows or entities return persistently despite repeated energetic clearing, then consider that SOUL RETRIEVAL may perhaps be what is actually needed
Use for 21 days
30 ml $30

"Old memories of self, mistakes I made and would not face, have come up. I remembered the times I was not treated with respect, and suddenly realized it was because I was giving away my power by disowning myself. As the essence progresses, my creative self-expression and inner child have returned. Nice" Lori D Thorold
Chakra Balancing Set
Set of 10 essences provides multiple benefits. Each chakra formula addresses the emotional causes and vibrational imbalances associated with disruptions in the chakric system. It's a convenient 'tuning kit' in a bottle when you don't have time for a Reiki or Vibro-Acoustic treatment! Use as needed to restore clearing and lasting balance to body and mind

.Root Ckakra Provides grounding and vitality. Helpful for traumas or shock
.Sacral Chakra Opens you to pleasure and fun. Inspires creativity. Use with 3rd Eye to promote the ability to manifest what you envision
.Solar Plexus Restores internal balance and self empowerment and releases karma to promote a return to innocence
.Heart Fosters love and vibrant health
.Thymus Provides soul grounding when you want to leave your body or escape
.Throat Chakra Fosters release of guilt and fear. Promotes forgiveness. Aids in communicating your needs
.Zeal Point Promotes balance of central nervous system. Promotes forgiveness of self. Opens you to universal energies
.3rd Eye Expands consciousness and heightens intuition. Use with Sacral Chakra to promotes the ability to manifest what you envision
.Crown Chakra Instills unconditional love and clarity. Connects you to Divine intelligence
.Clear & Protect 30 ml A wonderful antidote to the negative energies around you! Clears your auric field. Acts as a shield against EMF's, negativity, psychic attacks, etc. and keeps you from absorbing other people's energies. Enhances your intuition
15 ml dropper bottles + 30 ml Protection $165 value. $125 (save $40!)
30 ml set $300 value $199.98 (save $100)

You can also Order chakra bottles individually