Behavior Balancing for Dogs, Cats and Horses
home > help for dogs, cats & horses > remedies for animals > custom testing for pets > about us
"I was at your workshop this past Wednesday. You did an incredible job and I left feeling like I need to learn more from you" Debi F Bowen Animal practitioner St Catharines ON
Custom Testing By Photo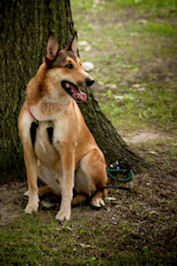 We offer convenient photo screening to find the source of behaviour problems in your animals. Whether you have a dog, cat, horse, rescue center, or farm animals, photo screening allows us to accurately assess and assist your animal no matter where you live in continental North America (scroll down for horses)
Photo testing is non-invasive and stress-free for your pet or horse and protects us in the event your animal is large or aggressive. You and your pet do not have to travel to us
Photo testing can reveal the root cause of your pet's behaviour or health issues. We can also test for contributing factors such as diet and lifestyle to provide insights that can help you optimize your animal's well-being
"Snickers is doing much better. She is interacting with us and is very playful. I tried so many times in the past to build a relationship with her but she didn't want to open her heart to me. The essences worked magic for her!! She loves to sit on the sofa and have her tummy scratched and she is excited about taking walks again!" Sarah W Montreal QC
We offer 2 types of testing
1) custom testing which creates a unique formula specifically for your animal's individual issues and needs
2) basic testing to determine which of our prepared remedies will be most helpful
Each testing session is unique to the animal with which we are working. Testing is designed to ensure we reach the heart of your pet's issues in the gentlest, most effective, non-invasive way
All we need is a recent photo and a bit of insight into the animal's behaviour before the testing begins. We may also use telepathic animal communication to help you understand your pet at a deeper level or to help your pet understand you
Learn more about photo screening from a recent photograph
What happens next? Depending on your choice of test, either a prepared remedy is selected, or a custom formula of living botanical frequencies is created for your pet. Our living pet essences are specially created for the enhanced sensory abilities of animals
You'll give this remedy to your pet orally or in its water each day for 15-21 days. Full instrcutions and dosage are included with your order. The frequencies are safe, benevolent, natural, and human-grade. They will not conflict with medications or affect drug-testing in performance animals. However, when you place your request for a test, be sure to let us know if your pet is on any medication
See testimonials on photo screening for animals
For common easy-to-diagnose behaviour issues such as separation anxiety, panicked fears, aggression, hyperactivity, weaning, or training problems see our prepared behaviour remedies for animals
Custom Photo testing $165 + custom formula $60-$90 plus shipping
Photo testing for Prepared Remedies $65 + remedy(s) $30-$50 ea plus shipping
Subsequent testing Occasionally a follow-up custom formula is required. Simply take a new photo of the pet and email it directly to us. We'll prepare the new formula and ship to you
Each subsequent test $35 plus products and shipping
"I just wanted to thank you for your seminar today on Animal Communication. It was very interesting. My dear, if you haven't written a book as yet, you might want to consider starting right now. If you do have a book out, I'd love to know the title and where it can be purchased. Great Work!!!!!" Dottie Barker Buffalo NY
We've owned and worked with horses for more than 35 years. We offer convenient photo screening and custom essence remedies for horses, race horses and show horses throughout North America. Photo testing can reveal the root cause of the current behavior or health issues. We may also test for contributing factors such as diet and lifestyle to provide insights that can help you optimize your horse's well-being
Photo testing is non-invasive and stress-free for both you and your horse. Each testing session is unique to the animal with which we are working. It is designed to ensure we reach the heart of your horse's issues in the gentlest, most effective, non-invasive way. We screen from a recent photograph. See testimonials on photo screening.
A custom formula of botanical frequencies is then blended for your horse. The frequencies are safe, benevolent, natural, and human-grade. They will not conflict with medications or affect drug-testing in performance or race animals
Simply administer the formula orally or add the custom frequencies to the horse's water or grain daily for about 15-21 days. Instructions will be provided. You'll quickly see a remarkable improvement in the animal's attitude and especially in its performance after just a few days. Learn more about healing for horses ... see testimonials ...
Photo testing (see how to submit your photo for testing) testing $100 + custom formula $60-$75 plus shipping
Subsequent testing On rare occasions a follow-up custom formula is required. Simply take a new photo of the horse and email it directly to us. We'll prepare the new formula and ship to you
Each subsequent re-test including 30 ml custom formula $85 plus shipping
For common issues such as separation anxiety, barn sour, weaning or diminished athletic performance see our remedies for Horses