Information about our essences to aid in your selection
Home > Our Flower Essences > Stress & Anxiety Relief > Protection & Clearing > Self-Image Issues > Career & Success > Abundance > Heal Your Trauma > Childhood Issues > Love Challenges > Women's Issues > Nurturing & Support > Physical Wellbeing > Overcome Bad Habits > Life Changes > Be Happy! > Children & Teens > Pets & Horses > How to choose essences > Shopping Cart >
We offer more than 100 unique essence remedies covering a vast range of complex emotional issues, or just to help you feel clear, happy and carefree. Whether you want to heal your broken heart, transcend childhood trauma and abuse, become more empowered and successful, or feel more attractive and sexy, we have the perfect essence fusion for you!
We synergistically blend our individual flower frequencies together using 'energy-field formulations' to ensure they are even more powerful and effective. Each essence fusion contains 3-9 strategically chosen individual living flower frequencies blended into a single harmonic formula designed to influence a particular state of being in a comprehensive way
Think of it as a beautiful harmonic melody your heart wants to feel and hear ... sweet natural frequencies your body is longing to dance with
More about our products and how they can help you
Our essence fusion remedies are field-tested across a broad range of situations and personality types to ensure they are effective. We provide detailed personal instructions with each of our essence orders
If you don't know what you need, or if you need something more specialized and individual than our prepared essence remedies
Custom Testing by photo
is available
We caution against using our living flower essences if you use or have used homeopathy to treat health issues. Read our product contra-indications before choosing essences
Flower essences are not appropriate for those under psychiatric care or with a history of mental illness. Our living flower essence remedies are a self-help option, not a therapeutic treatment. Our living flower frequencies often reduce or eliminate the need for anti-depressants. Feeling great can make you want to stop taking anti-depressants 'cold-turkey.' However, these medications can only be gradually reduced under the supervision of a physician
Enlightened Feelings living flower essences are preserved with 5% premium grain vodka. This amounts to only 1 drop of alcohol per daily dose. Our products can be used safely by recovering alcoholics and for addiction recovery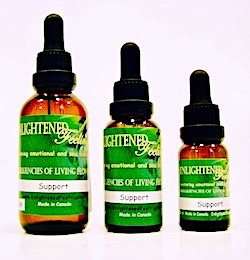 Product Sizes
Essence Fusions 15 ml dropper (10 doses) @ $15 ~ 30 ml dropper (21 doses) @ $30 ~ 60 ml dropper (40 doses) @ $50
Topical Essence Fusions 30 ml atomizer @ $30 ~ 60 ml atomizer @ $50
Atomizers may be sprayed lightly in the mouth or lightly misted onto the affected area. The fragrance-free essence remedy will quickly dry without staining your clothes. Effects are within minutes
How to administer our essences
Prices are in CANADIAN currency
To help offset shipping costs, we offer a
10% discount
on orders of 3 or more bottles of essence fusions. (Discounts are already included for sets of essences.) Use the code
3PLUS
Let's get started! Choose a category

...
Our products are private brand label. They not sold in stores or other retail settings. We welcome wholesale orders from certified or licensed health professionals that have successfully completed our course ENLIGHTENED FEELINGS IN PRACTICE
Need assistance? Contact Us: Email us tel: 1.519.586.2983
Caveat as required by Health Canada and FDA: For your protection and mine, the information contained on this website is provided as general and scientific information and is not intended as medical or psychological advice. Our products are designed as self-help tools to raise your own inner vibration to a more positive state. However, our products may sometimes influence physical issues as a side effect. Our products are not intended to diagnose or treat mental or physical health issues. Please see a qualified health care provider