Each essence fusion combines multiple individual flower essences to address multiple aspects of a complex state of being, for a more powerful and comprehensive approach to your issue. Essence fusions are extensively field tested to ensure efficacy across a broad range of situations and personality types
Feel mental shifts begin after just a few days. Lasting results in 21 days. Repeat once a month for 3-5 days to ensure you remain free and unencumbered by life's challenges. Full instructions are provided with each essence remedy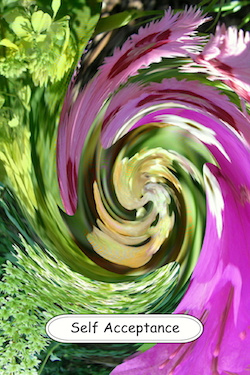 If you don't like yourself, you are pulling on others to make you happy. Everything changes when you begin to love yourself
The more you love and accept yourself, the less you seek validation and approval. You no longer send out the energy of desperation, or need to be filled from the outside
A wounded person will long for love. So, you will create a 'mask' to hide all that you believe to be unacceptable within yourself to try to fool others that you are not defective, inferior or worthless, as you feel you are. You will work hard to elicit approval and acceptance so that you can feel loved and a sense of belonging.
But, trying to become your spiritual or personal ideal leads to feeling flawed or unable to attain perfection. When you fall in love with yourself and are comfortable and happy in those times when you are alone, then you can be with others and remain in balance
This lovely gentle essence ends being self-critical and feeling unworthy. It is especially ideal for women with body-image issues. It helps you unconditionally love and accept yourself and your body just as you are and feel entirely comfortable in 'your own skin'
21 days + repeat once a month for 3-5 days
30 ml $30 ~ 60 ml $50

"Empowerment"
Feel uplifted as you step into your authentic power and give up the need to control situations or others. End the cycle of giving away your power by playing the rescuer or victim. Shift your energy from worrying about what others will think about you to what you know to be true about yourself. Stand up for yourself in all situations with compassion, not anger or defensiveness. Take charge of your own path and journey. Feel more disciplined, assertive, assured, ambitious, and responsible for your own path in life
21 days + repeat once a month for 3-5 days
30 ml $30 ~ 60 ml $50

"Highest Self"
Assists with self-doubt. Increases grounding and stability. Helpful when a person, event or conversation throws you off balance and causes you to doubt yourself or tests your self love. Magnifies your natural attributes and Divine self. Re-sets your core to increase self-authority, inner strength, potential, action, and ability to manifest the future you envision
This essence feels like a cross between Empowerment, My Authentic Self and Success
21 days + repeat once a month for 3-5 days
30 ml $30 ~ 60 ml $50

"Self Forgiveness"
A lovely sweet essence fusion to help you feel more loving and compassionate toward yourself. Effortlessly prompts self forgiveness and inner peace. Releases self-recrimination, self-judgment, and grudges against self
21 days + repeat once a month for 3-5 days
30 ml $30 ~ 60 ml $50

"Uplifting Confidence"
Boldly instills feelings of self-worth and confidence. Ideal for starting a new endeavor, sales, stage fright, bullying in the workplace, or increased confidence at work and in social situations
"I notice especially in the morning, how much more grounded I feel. I feel like I can really sink into the moment and look people in the eye and I comfortably take up more space." Casey M, actress Hollywood CA
21 days + repeat once a month for 3-5 days
30 ml $30 ~ 60 ml $50

"Respect Me!"
Dissolves false negative self-images. Purges buried anger from a lifetime of feeling excluded, outcast, or not being treated fairly or with respect. Helps you to recognize unfairness
"What I have noticed so far is a calmness... A sort of bliss. I have been energetic, motivated, and almost giddy... Social situations that I would normal be terrified of ... I look forward to" Meg K Fonthill ON
Allows you to make peace with feeling 'different' from others. Promotes self-acceptance and inner strength that helps you to stand up for yourself, or refuse to accept injustice
"The biggest change I've noticed is that I cleared the awkwardness of feeling different from other people" Evelyn R TX
May be helpful for gentle souls, artists, those who are bullied, special-needs, or those who feel socially awkward or like an outcast
"A big thaw. I don't care what people think. I feel unencumbered. I give permission to myself to sing, allowing my divinity to be expressed." Karen U St Catharines ON
This essence is best followed by an empowering essence such as SELF ETEEM, or by a protection essence fusion
Use for 21 days. Repeat, if needed for 3-5 days once a month
30 ml $30

"My Authentic Self"
One of our greatest fears is "if you really know me you will not love me."
But, how can you ever be loved just for yourself, or find the right partner, or even the right career if no one actually meets the real you? Not being your true self results in loneliness even when with others, unfulfilling relationships, low self esteem, and never getting your needs met
"OMG! This is marvelous. Other people need to know about this! It's like pieces of me are being extracted for me to fully observe." Laurie W Thorold ON
Your entire life falls out of alignment when you aren't being the real you. When you lose yourself you lose everything
This important essence fusion gently integrates and reconciles all aspects of self to help you feel confidently happy with yourself without being concerned about what others think. It allows you to be honest with yourself and others, to tell the truth, and live in truth, especially when boundaries are crossed. It helps you to gain a strong, fully self-integrated, confident, authentic self. It helps you to be able to set boundaries and hold your own space
"I feel like I have achieved the honesty I was looking for, I am feeling like I have made the shift & am consciously (& unconsciously) working towards being my authentic self. I have found the motivation & am walking through the path of uncertainty & have exciting plans in place.." Kelly K Ft Erie ON
MY AUTHENTIC SELF is also very helpful for those who don't want to face or accept their negative qualities or 'shadow side'. It helps you be true to your soul, true to your feelings. This can be life altering!
"Throughout the days I was taking it, I fell in love with myself. I am important and I matter. I am amazed with myself now and how I respond and feel about things. What other people say, those that bother me before, does not have much weight now. The thoughts of others, those that I assume they have of me, do not matter. I feel good about me. It feels good to be detached from useless thoughts and emotions. I'm excited to move on to other flower essences and become a better me in the process. I'm grateful to have found you and your flower essences. It's a wonderful blessing." Maria G Oxnard CA
This is the ideal essence for those who have self-image problems such as low self-esteem, trying to be perfect, attracting the wrong partners, neediness or discomfort being alone, self-consciousness, insecure and jealous when in a relationship, hiding your true feelings or true self and order to keep the peace, and for 'people-pleasers' who compromise their own needs in order keep others happy.
Do you have more than 3 of these symptoms?:
No longer are in touch with who you really are

Self-conscious, u

ncomfortable and awkward in social situations

Afraid to relax and just be yourself

Not getting your needs met

Acting to elicit love, approval, or acceptance

Lonely, even when with others

Low self esteem

Attract the wrong kinds of partners, u

nfulfilling relationships, abusive relationships

Needy, jealous and insecure

Easily embarrassed, feel judged by others

Feel unlovable

Self-judgment, self criticism

Do not realize your value to others
21 days + repeat once a month for 3-5 days
30 ml $30 ~ 60 ml $50

Also available in Empowerment Trio