Transform Your Life With These Trauma-Healing Essences
home > main essence menu > heal trauma > product information > FAQ's > Testimonials
The effect of traumatic events lingers long after the event itself. During moments of trauma recall, the part of the brain that is responsible for speech production shuts down. Your ability to articulate your experience and your feelings becomes blocked and you are unable to process and release what you feel. Verbal forms of therapy may actually hinder the process of healing and re-traumatize you
These transformative heart-and-soul-healing essence formulas effortlessly dissolve and overwrite the residual energies left by traumatic, painful, or heart-breaking events in your life. Some of our formulas will even go right into the physical body where you are energetically holding the trauma and have been unable to let it go
These loving flower frequencies fusions offer freedom from grief, emotional pain, anger, inability to forgive, and defensive behaviors that keep you from experiencing happiness and fulfilling love
Learn about 7 emotional wounds that can sabotage your life and happiness
Our fusions are carefully formulated and extensively field tested to ensure efficacy across a broad range of situations and personality types. Old issues begin to release after just a few days, with lasting results in 21-66 days. Full instructions are provided with each essence fusion
Learn how your health can be affected by negative emotions such as sorrow, anger, resentment, broken heart or emotional isolation
Confused about which essence remedy to choose? Trauma is often deep-seated and complex. We offer 3 different levels of personal testing by photo to ensure you get the ideal products for your needs
Want to do it yourself? Check out our Testing cards designed to help you accurately choose the ideal essence fusions for your needs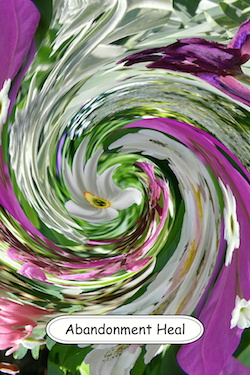 Abandonment is one of the 7 life-changing major emotional wounds. ABANDONMENT HEAL releases and overwrites painful feelings of loss, sorrow, heartache, emptiness, and feeling unloved or unlovable, rejected, or abandoned and replaces with a feeling of gentle comfort and nurturing. Eases your grief and isolation. Helps you find acceptance and inner peace
Powerful enough to heal rejection or abandonment by someone significant, such as a relationship breakup, absent parent, marriage breakdown, or death of someone significant to you
Use for 21-66 days
30 ml $30 ~ 60 ml $50
BROKEN HEART HEAL was created for the most challenging types of grief that are so completely life-altering, and persist for a much longer period of time. Ideal for the loss of a partner, parent, or child. Also useful following divorce or rejection
"Broken Heart Heal was huge for me. I didn't realize how much I was weighed down by all of my losses. That was huge. I tell everyone I can about your flower essences." Evelyn R Hunt TX
Grief is often something we can't or don't want to let go. There is an underlying fear that if we stop grieving we will forget, or that the person's time and relationship with us will lose its impactful meaning
But, grief is very harmful to your physical body and mind. Grief separates you from others and from your loved one in spirit. Its low vibration diminishes your life force, which damages your heart, breathing, and circulation
BROKEN HEART HEAL gently and gradually releases deep heartache, grief and loss. Shifts you through and beyond long-term grief. Turns sorrow and grief into acceptance and understanding when your loss seems so unfair and your whole life has changed. Also helps to release guilt and reluctance associated with moving on with your life
We recommend 'Be Kind to Yourself' to follow or be used in conjunction with this essence
Use for 42-66 days
60 ml @ $50

Forgive yourself. Forgive others. Find inner peace in the release of resentment, grudges, anger, indignation, and judgment
"The first day I took forgiveness I double dosed it. That night I had a spectacular vision there was a large crowd of humanoid beings that were freely walking out of a prison that held all the people I could never forgive. I mean even someone that gave me a nasty look as a child I never forgave. I mean there was a huge mob almost looked like the terra cotta statues that were found in China. However it's early and there are more deeply held persons that require my forgiveness. This stuff helps! Take it now!" Daniel O Pico Rivera CA
21 days + repeat once a month for 3-5 days
30 ml @ $30 ~ 60 ml @ $50

Your brain does a strange thing when you have been violated or traumatized ... if the perpetrator does not apologize or atone for hurting you, your brain takes on the shame, guilt, and blame for what happened to you
Guilt and shame causes self-destructive behaviours that further damage you. So, you are harmed a second time!
"So, definitely some things I felt guilty over, came up from the past. I'm feeling better about some main past issues. I feel like my brain is thinking more clearly and I definitely think I'm happier. People noticed something different about me and they just can't put their finger on it. Two people said I look younger !!" Joyce M NY
GUILT RELEASE effortlessly releases guilt and shame. Feelings of guilt or shame can cause you to sink into self-destructive behaviour. Dividing self into judge, criminal and punisher causes feelings of separation, isolation and loneliness
GUILT RELEASE provides atonement (at-one-ment) by helping to build a better balance with the cosmos through inner peace. Dissolves negative self-talk, self-punishment, and feeling bad about yourself. Allows you to see a situation with greater clarity, logic, and a higher perspective so you don't automatically accept blame
21 days + repeat once a month for 3-5 days
30 ml @ $30 ~ 60 ml @ $50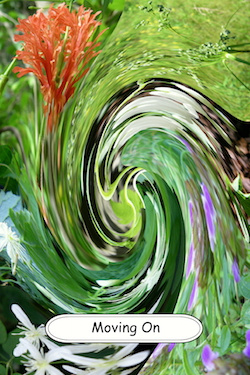 "Moving On"
Ideal for those who have suffered a loss, death, injury, or challenge that changes your life as you knew it—for example: cancer, or the loss of a relationship, job, a spouse, your home, or a limb. Moves you out of self pity and shifts you forward, helping you to accept that you can have a brighter future. Helps you embrace that you can have more, not less
Use for 21 days
30 ml @ $30

A lovely gentle essence to assist those experiencing dread and hopelessness. Helpful for those trapped in hopeless situations they cannot change. Helps you to feel more positive, optimistic, and not become jaded by those who are thoughtless and insensitive
Use for 21 days. Repeat for 3-5 days as needed
30 ml @ $30
return to main flower essence menu