Feel-Good Essence Fusions
home > main essence menu > feel-good essence fusions > product information > FAQ's
Why are feel-good essences an important part of your daily regimen?
Negative feelings such as anger and grief come from within, fueled by your own substance. So, these emotions wear you out and leave you feeling less than you are. But, love, gratitude, joy and other high vibration emotions flow through you from the universe. They energize and leave you feeling expanded, lighter, fuller, and complete
Learn how happiness helps you live longer!
Our collection of feel-good essences are wonderfully uplifting. They aren't designed to help you process your feelings, overwrite the past or release a trauma. They simply instil positive feelings and thoughts that invoke a sense of balance, well-being, happiness, and often even a sense of bliss
They can be used for a few days whenever they are needed. Try one for 3-5 days and see the difference in how you feel!
see also Stress Relief
see also Empowering Essences
see also Nurturing Support
see also Clearing & Protection
"I Feel Blessed"
An uplifting remedy to instill feelings of happiness, blessings, gratitude, and a sense of belonging to 'The All." This highest frequency remedy allows you to recognize and embrace the blessings present in your life with a calm expectation that things will go your way. Life begins to have a flow, with greater serendipity. You just feel happy!
15 ml $15 ~ 30 ml $30

"I Feel Loved"
Helps you feel softly enveloped in positive, loving feelings. An ideal essence to use whenever you feel alone and unloved
Use for 3-5 days as needed
30 ml $30
"Carefree"
A lovely sweet, light essence to help you feel happy and carefree. Good for those who are too serious or stoic and need to lighten up!
May be given to children (specify children's essence when ordering to ensure proper dosage & instructions). Especially helpful for babies and children who are fussy, colicky or cry a lot! Add a little to bathwater or a few drops in water or juice. Or place a bottle in the crib for a more restful baby
Use for 3-5 days as needed
30 ml $30

"Chill Out"
Instills serene relaxed well-being. Feels like you've been on vacation for a week!
Especially beneficial for those who are too driven, too serious, too hyperactive, or cannot relax. Helps you stop and smell the roses!
Use for 3-5 days as needed
15 ml $15 ~ 30 ml $30

An uplifting lighthearted playful feel-good essence that is rather reminiscent of what it felt like when you were young and carefree. Opens you to pleasure
Use for 3-5 days as needed
15 ml $15 ~ 30 ml $30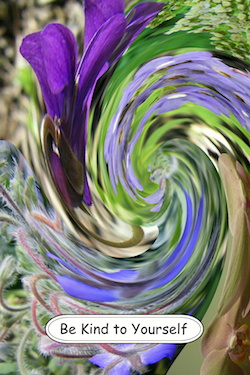 "Be Kind To Yourself"
For those times you really need some feel-good self-nurturing and self-kindness. Provides a feeling of comfort like a nurturing mother
A great energetic substitute when you really need a hug and no one's there to give one
Use for 3-5 days as needed
30 ml $30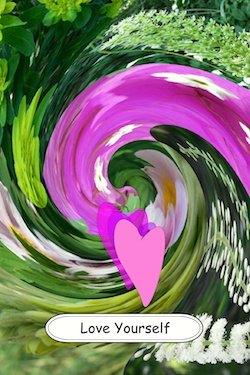 "Love Yourself"
Instills uplifting happy feelings of self love that feel like a sweet, kind, feel-good self-hug
An ideal essence fusion to take after completing an emotional healing essence such as Deep Wounds of Childhood. Helps replace nurturing love that is missing from your cellular memory
21 days + repeat once a month for 3-5 days
30 ml $30 ~ 60 ml $50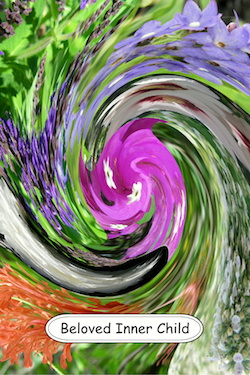 "Beloved Inner Child"
Beloved Inner Child encourages your inner heart to sing!
This gentle loving essence feels playful, innocent, happy and carefree. It returns you to the happy loving child you were before a painful disappointing life happened
Use for 21 days
30 ml $30

A lovely gentle essence to assist those experiencing dread and hopelessness. A light lift for those trapped in hopeless situations they cannot change. (such as an alcoholic co-dependancy relationship)
This lovely gentle essence helps you to rise above those challenging situations and overcome feelings of dread and hopelessness. Helps you to feel more positive, optimistic, and not become jaded by those who are self-centred, thoughtless and insensitive
Use for 21 days. Repeat for 3-5 days as needed
30 ml $30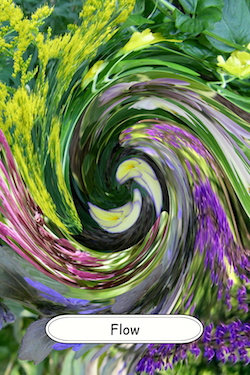 Flow helps everything to flow more easily and go your way without resistance. It restores a flow of universal connection and trust when you feel disconnected, stuck, stalled, frustrated, blocked, or 'off your game'. Helps stop worry and obsessing about an issue and allows you to let it go. Releases resistance, fear, guilt, anger, and frustration
Use as needed
15 ml @ $15 ~ 30 ml $30 ~ 60 ml $50

This light, flirty essence fusion emboldens you to be more fun, outgoing, and adventurous. Opens you to accepting attention from others and prompts you to take the initiative when needed. You become more attractive and interesting to others
"Love Magnet is definitely working. Physiologically, I feel good, I feel vibrant and energetic. And I'm also manifesting things that I have been wanting for a very long time... little things that meant a lot to me. In addition to that, I've been feeling more frisky in terms of feeling softer in my heart and overall disposition. I have even been kinder to my ex and more gracious. It feels like I've let a lot of this hard exterior shell go. Which is a good thing." IT MD

Use for 3-5 days. Then every few weeks as needed
15 ml $15 ~ 30 ml @ $30

Self-Love Trio
Use whenever needed for self-nurturing, inner balance, and soul replenishment!
.I Am Deserving to help you feel worthy and deserving 30 ml
.Be Kind to Yourself to instil feelings of self-nurturing and self-care 30 ml
.Self Acceptance to help you lovingly accept yourself and your body 30 ml
$90 value $80 (Save $10)

*Individual bottles of your favorite remedies may be re-ordered in any size
Self-Care Pack
Use whenever needed for self-nurturing, replenishment and support!
.Nurturer in Balance to help you nurture and care for yourself as much as others 30 ml
.Be Kind to Yourself to promote self-nurturing and self-care 30 ml
.Support replenishment, strength, and support when you need it 30 ml
$90 value $80 (Save $10)

*Individual bottles of your favourite remedies may be re-ordered in any size
"Clear & Protect"
Clear & Protect offers you an effortless way to raise your vibration and the vibration of the planet!
"I have to say that the protection makes a huge difference inside of me, even clams down those adrenalin/palpitation moments and turns them into a kind of meditation! It's hard to explain....!" Candice M Brantford ON
Balances, nourishes and strengthens your energy field from the inside out, radiating a higher frequency that clears your field of negative thoughts, feelings and energies. Provides a buffer from the harmful effects of all types of negative energies, dissonance and EMF's that have no place in your energy field, allowing your clear energy field to radiate out to balance your environment and those around you
Unimpeded, your vibration rises, allowing you to experience life from a higher perspective and a more balanced reality
Works in minutes and leaves a light, happy positive feeling all day
Use as needed
30 ml @ $30 ~ 60 ml @ $50

"Shield"
Stay positive in the midst of negativity, and set healthy boundaries. Shield provides an energetic shield to protect you from negativity, and 'toxic' people. Allows you to stay positive and happy without being affected by others' moods
"Never never NEVER visit your family without it!" Nancy W Kenmore NY author of "If Stress Doesn't Kill You Your Family Will'
Also helpful for those who are ultra-sensitive to EMF's, computers, and environmental energies
Use as needed
30 ml @ $30 ~ 60 ml @ $50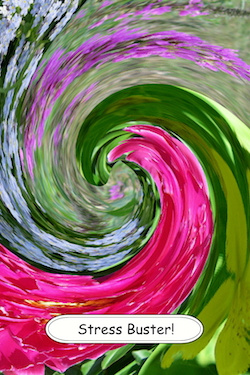 "Stress Buster!"
No time for a massage, meditation or weekend away? Stress Buster works fast and fits in your pocket! We call it 'serenity in a bottle'!
"I feel absolutely unflappable with the Stress Buster!" Ron M firefighter Niagara Falls ON
Quickly and effectively relieves the mental effects of everyday stress while retaining mental alertness and lasts ALL day! Instills inner calmness and serene balance without losing focus
Also useful at bedtime to calm mental chatter to allow more relaxed, restful sleep
Use as needed
30 ml atomizer @ $30 ~ 60 ml atomizer @ $50

A daily self-help tool that helps you stay in balance through all of life's challenging times. It's a convenient 'tuning kit' in a bottle when you don't have time for a Reiki or Vibro-Acoustic treatment! A favourite with Yoga enthusiasts!
Set of 10 essence fusions provides multiple benefits. Each chakra formula addresses the emotional causes and vibrational imbalances associated with disruptions in the chakric system
Use an appropriate chakra essence 3-5 days as needed to restore clearing and lasting balance to body and mind. May also be used topically on chakra and acupuncture points for a palpable positive energy shift

.Root Ckakra Provides grounding and vitality. Helpful for traumas, fears, or shock
.Sacral Chakra Opens you to pleasure and fun. Inspires creativity. Use with 3rd Eye essence to help manifest what you envision
.Solar Plexus Restores internal balance, self empowerment, and helps release karma to promote a return to innocence
.Heart Fosters love and vibrant health
.Thymus Instills unconditional love. Provides soul grounding when you want to leave your body or escape
.Throat Chakra Fosters release of guilt and fear. Promotes forgiveness of others. Aids in communicating your needs
.Zeal Point Promotes balance of central nervous system. Promotes forgiveness of self. Opens you to universal energies
.3rd Eye Expands consciousness and heightens intuition. Use with Sacral Chakra to promotes the ability to manifest what you envision
.Crown Chakra Instills love, clarity, purification. Connects you to Divine intelligence
.Clear & Protect 30 ml A wonderful antidote to the negative energies around you! Clears your auric field. Acts as a shield against EMF's, negativity, psychic attacks, etc. and keeps you from absorbing other people's energies. Enhances your intuition
9 X 15 ml chakra bottles + 30 ml Protection $165 value $125 (save $40!)
30 ml set $199.98 (save $100!)

Order chakra bottles individually