Inner Healing and Making Peace With Your Past
Answers to your questions about our products
Healing your past isn't about what happened. It is about how it made you FEEL. That is why the past carries such a powerful influence on you. It shapes everything about you--what you believe, how you react, the choices you make, the partners you choose
Are you ready to let go of the things that have hurt you or made you angry and resentful? Can you begin to nurture yourself with those things that truly benefit you and feed your heart and soul?
Our transformative essence fusions are designed to assist you to effortlessly transcend the negative effects of your past, whether it is a failed relationship, childhood sexual or physical abuse, or feeling abandoned, criticized, or bereft of nurturing in your childhood. Our formulas are carefully selected and extensively field tested to ensure efficacy across a broad range of related situations and personality types
Use our living flower essence fusions to support you through making peace with your past, getting 'unstuck', and releasing the effects of traumatic or challenging experiences. Not all essence remedies will invoke clarity at once. Some will be gradual and subtle. Some will lead you on an inner journey with hidden truths and 'ahah! moments held deep inside
Imagine how your life can become effortlessly balanced and serene! Instructions are provided with each essence order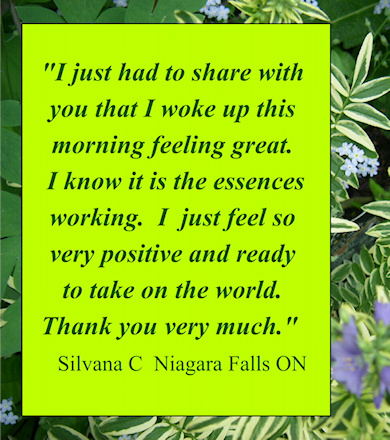 Confused about which essence remedy to choose? Take our happiness quiz! It will tell you which essences will be most helpful for you!

Need our assistance? We offer accurate testing when you just can't decide which transformational essences are best for you. Let us pin-point the essence fusions that will be most helpful to you. We also offer accurate custom testing for those whose needs are unique or more complex
Want to do it yourself? Check out our NEW Testing cards to help you choose the ideal essence fusion for your needs
FAQ's about flower frequencies
Some of our clients' experiences
"Soul Retrieval"
Reclaims fragmented or disowned aspects of self caused by accident trauma, sexual or physical abuse, deep emotional trauma, religious conditioning, perfectionism, misguided spiritual beliefs, or critical self-judgment. Helpful for those who have suffered an emotional trauma that has caused an internal disconnect. Helps you find joy in your own inner child
Helps overcome negative past life experiences that are sabotaging you in this lifetime. Helpful for those who reject or disown their own 'shadow self' or negative attributes. Re-integrates your whole self, including negative qualities you have rejected or disowned. Allows you to accept and integrate your negative qualities
Disowned aspects of self can sometimes appear as dark shadows or attacking entities. If shadows or entities return persistently despite repeated energetic clearing, then consider that SOUL RETRIEVAL may perhaps be what is actually needed
Use for 21 days
30 ml @ $30

"Old memories of self, mistakes I made and would not face, have come up. I remembered the times I was not treated with respect, and suddenly realized it was because I was giving away my power by disowning myself. As the essence progresses, my creative self-expression and inner child have returned. Nice" Lori D Thorold
A gentle sweet restoring of child-like purity and innocence
This essence is especially helpful after taking Sexual Abuse Release, Karma Clear, Deep Wounds of Childhood, or Womb Heal
Use for 21 days
30 ml @ $30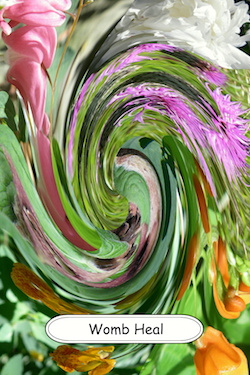 Promotes gentle psychological healing following miscarriage, hysterectomy, or abortion
We suggest Sweet Innocence to follow this essence, especially if you wish to become pregnant
Use for 21 days. Do not use if pregnant or nursing
30 ml @ $30 ~ 60 ml @ $50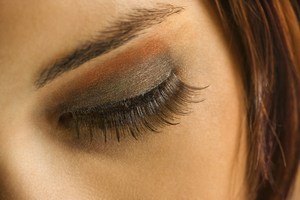 NEW! "Trauma Release Protocol"
A powerful 4-step protocol to help gently and effortlessly release the emotional, mental and physical debilitating effects of deep trauma of all kinds, including sexual or physical abuse, psychological abuse, accident trauma, war conflict, and Covid Post Traumatic Syndrome
First, we release the fear-based control issues and mental blockages that stop you from releasing your trauma. Then we remind your mind and body what your default state should be. Then we address the deeply held physical/emotional effects of the trauma and release it from your body. Then we address the loss of power and feelings of victimization. We help you set boundaries and more easily hold your own space, and not be so intimidated by masculine energy or those in power or authority
Set consists of 60 ml Control Release ~ 15 ml The BIG RESET ~ 60 ml Trauma Release ~ 60 ml I Am Not a Victim
$149

We recommend following this protocol with an empowering essence fusion such as I AM Deserving, Empowerment, Self Esteem, Success, or Spiritual Power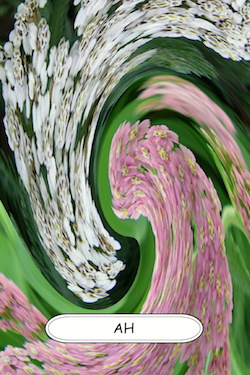 "AH"
Deeply buried long-held emotional pain is often the root cause of chronic pain and inflammation such as arthritis, bursitis, and back pain. The intense energy of low vibration emotions such as anger, resentment and hurt feelings doesn't fade just because you try to bury your feelings. It continues to resonate below the surface of conscious awareness
Feelings that have not been resolved must find a way for you to acknowledge them. The quiet voice of emotions becomes the loud scream of physical pain as a never-ending cascade of neuro-peptides is released in response to your buried feelings
AH assists with dissolving the origins of pain and inflammation. We've combined the frequency of DNA repair and the soothing frequencies of living flower frequencies to help quickly dissolve the detrimental effects of the low frequencies of long-held emotional pain and resentment. The higher frequencies of AH activate and accelerate your body's own healing capacity
AH can help with a wide range of healing issues that have not responded well to traditional medical treatment (because the cause is actually emotional) ... such as arthritis, bursitis, and inflammation. It also enhances the efficacy of natural therapies such as massage, acupuncture, or reflexology by helping to release trapped energy in tissue. Every day our clients report new benefits of AH!
Starts to work in minutes. Drug-free and no side effects or contra-indications. Convenient atomizer can be used orally or topically as needed. Gentle and safe for use on children and animals. No odor No staining clothes
30 ml Topical Atomizer @ $30 ~ 60 ml Topical Atomizer @ $50

"I broke my arm several months ago and it wasn't healing. Doctors said surgery was probably my only option. My sister gave me AH. I've used it for just over two weeks and already the cast is off. Xrays show that my arm has now miraculously healed." Jamie W Florida
"...I've been using it (AH) on my wrist. I broke it last winter and have been unable to support weight on my palm ever since. But I just realized today that it's almost 100% pain free. I can do push-ups again on my palms, whereas before I could only do push-ups with a closed fist. Those drops are amazing!" Chalcea H Utah
"AH PLUS"
Helps dissolve the lower frequencies of deeply held emotional pain or resentment that is stored in the weaker areas of the body and may contribute to injuries and breakdown. Emotional pain caused by feeling separated, unloved or unsupported can cause dis-unity and separation within your body. That can result in susceptibility to injuries such as fractures and sprains, torn ligaments, hernias, and wounds in these weakened areas
AH PLUS contains the pain relief frequencies of AH, with added frequencies that soothe and provide comfort and frequencies that encourage unity and strength! Wounds, incisions and fractures seem to respond especially well to these beneficial frequencies, without need for medication. AH PLUS starts to work in minutes. Drug-free and no side effects or contra-indications. Convenient atomizer. Use orally or topically as needed. Safe for use on children and animals
30 ml Topical Atomizer @ $30 ~ 60 ml Topical Atomizer @ $50

Image 1--before Image 2--treated 5 days with AH PLUS
Helps to dissolve the lower frequencies of inflexible mental patterns such as stubbornness, resistance, unforgiveness, and fear
Inflexible thoughts and feelings in your relationships or resistance to letting go of your past sends chemical messages to your body to cause it to miror your mental inflexibility. AH Flexible was created especially to energetically address inflexibility, pain and stiffness
Ideal for joints such as hips, knees, elbows, ankles, shoulders. Starts to work in minutes. Enhances the efficacy of natural therapies such as massage, acupuncture, or reflexology by releasing dense energy from tissue and joints. Convenient atomizer. Use orally or topically as needed. Drug-free and no side-effects. Suitable for pets. Not for use on children
30 ml Topical Atomizer @ $30 ~ 60 ml Topical Atomizer @ $50