Essences to Awaken Prosperity & Success
See also Empowerment and Career Enhancement
Are you looking for an effortless catalyst for change or getting 'unstuck'? Are you blocking your rightful abundance? Can you change your thought patterns to attract prosperity and success
Our transformative essence fusions can assist you to effortlessly break free of habit patterns that are sabotaging your life and keeping you from success and prosperity
Learn about the 7 emotional wounds that may be sabotaging your success.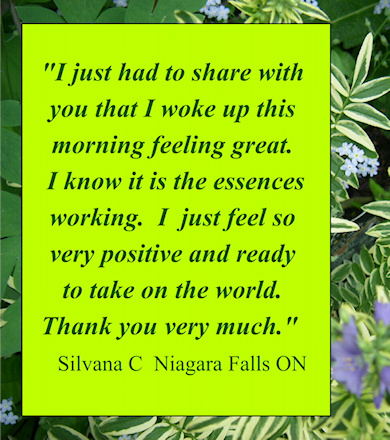 Our formulas are carefully formulated and extensively field tested to ensure efficacy across a broad range of situations and personality types. Feel mental shifts beginning after just a few days. Lasting results in 21 days. Use our essences again for 3-5 days every few weeks, to ensure you remain open to an abundant flow. Instructions are provided with each essence fusion
Our clients' tell you their experiences
FAQ's about flower essences Learn the science of flower essences
"Abundance"
Blessings in a bottle! Clears emotional blockages, patterns and limitations that prevent uninhibited receiving of opportunities,goodwill, luck, success and blessings. Opens you to receiving on all levels.
Stops struggle and helps you forge ahead. Attracts luck, goodwill from others, as well as benefits and rewards both tangible and intangible by aligning with your own personal value system
"Abundance is not something we acquire. It's something we tune into." Dr Wayne Dyer
The ability to attract abundance is impeded by feelings of guilt, resentment, defensiveness, or lack of forgiveness. These negative feelings develop as we interact with others each day. To remain clear and ensure lasting abundance, take your remedy for 21 days. Then repeat Abundance for 3-5 days every 4-8 weeks

21 days 30 ml @ $30 or 60 ml for ongoing use $50
"I purchased Abundance and Open Door to Fortune (Co-Creation) for myself and they have been amazing. They really create a sense that everything "will be just fine" financially. And, that feeling is essential for taking positive action in the world to improve one's situation" Michael G Bowdoinham Maine