home > essences main menu > prosperity & success > product information > FAQ's
The source of the word 'wealth' is 'well-health'--harmony between relationships, career, health, finances, and your spiritual core
"Abundance is not something we acquire. It's something we tune into." Dr Wayne Dyer
Your attitude, experiences, and beliefs surrounding money and success determines your outcome. In particular the ability to attract and sustain abundance and success is inhibited by negative beliefs and judgments such as complaining, criticism, negativity, and feelings of guilt, resentment, defensiveness, and withholding forgiveness
Women have a very long history of money scarcity and dependance on others. It has been embedded in their DNA for thousands of years. That's why women experience more challenges with achieving wealth and success
Your first step is to examine your thoughts, beliefs, family and cultural history, and your experiences surrounding your job, success, abundance and wealth. Are those beliefs and experiences serving you well or are they the root of your struggle, inner conflict, and self-sabotage?
For example, if you are judgmental or resentful of rich people and believe them to be greedy, miserly, and unethical, your mind will never allow you to be rich, because your values don't want you to be a bad person. You cannot have what you are not willing to become
Tips for Enlightened Prosperity
How do you feel about your job? Intelligence and technical skill account for only 25% of success. The other 75% responsible for success comes from how you process the world. It is your beliefs, values, behaviour, attitude, enthusiasm, attention, and optimism that really matters most! You can't be miserable and complaining 90% of the time and expect to feel passion and fulfillment! In fact, the frequency of complaining actually counteracts the frequency of abundance! Once you have internal success (waking up each morning happy and feeling a sense of purpose), external success has to follow
These transformative essence fusions can help you in a multitude of ways, whether you are a CEO wanting have better focus, a health care worker trying to hold your balance while you support your clients, an entrepreneur who aspires to greater success and wealth, or someone who longs for passion and purpose
For additional career assistance see Self Image Issues and Stress Relief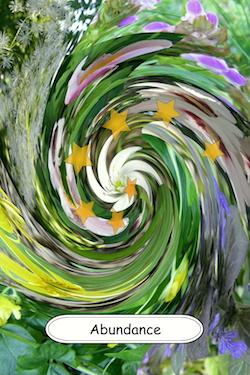 "Abundance"
Blessings in a bottle! Clears emotional blockages, patterns and limitations that prevent uninhibited receiving of opportunities, goodwill, luck, success, money, and blessings. Opens you to receiving on all levels
"I must say I've had a positive experience with the essences. I got a new job that ended up being better than my last one in many ways. The Abundance essence became very powerful." Alycia W Toronto ON
Stops struggle and helps you forge ahead. Attracts luck, goodwill from others, as well as benefits and rewards both tangible and intangible by aligning with your own personal value system
"I purchased Abundance and Open Door to Co-Creation for myself and they have been amazing. They really create a sense that everything "will be just fine" financially. And, that feeling is essential for taking positive action in the world to improve one's situation" Michael G Maine USA
The ability to attract abundance is impeded by feelings of guilt, resentment, defensiveness, or lack of forgiveness. These negative feelings develop as we interact with others each day
To remain clear and ensure lasting abundance, take your remedy for 21 days. Then repeat Abundance for 3-5 days every 4-8 weeks to keep yourself clear and unencumbered
21 days + repeat once a month for 3-5 days
30 ml $30 ~ 60 ml $50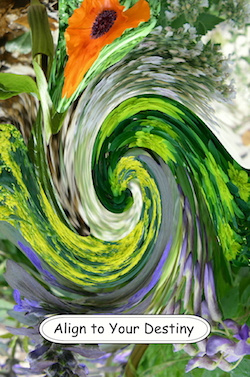 "Align to Your Destiny"
To feel truly successful and fulfilled, your life has to reflect your spiritual truth and your passions. When you live out of alignment, your life becomes about struggle and resistance instead of joy and purpose
Inspiration literally means "IN-SPIRITED". When you feel longing, it is your soul trying to tell you something. The place you rationalize you should be is not the place you will find your most heartfelt meaningful purpose in life. You must use your heart--not your head to find your purpose
If you make excuses to justify the work you are currently doing, you are merely negotiating with your sense of integrity. It damages your soul. When you discover your talents and choose your craft, you gain great joy and fullfillment from developing that skill into an art. That is why identifying your passion and purpose is so important
"I have wanted to try Align to Your Destiny for a very long time ... probably since I discovered your essences. Many times while placing an order for everyone, I would add it to the order and then delete it. I was drawn to it but I think I was afraid to take it because I knew deep inside that something would come to the surface. I finally took the essence when I ordered back in May and let me tell you things have been interesting. I have been in banking for over 16 years and although I am grateful for a job, deep down I have known for a while it doesn't make my heart sing. I finally admitted to my family that I needed to make a change. I started applying to office jobs and I started getting offers. I shocked myself and I turned them down. I realized it didn't make me happy to get the offers. So I dug deep and realized I wanted to make my childhood dream of working with children a reality. I started applying at daycare centers to work as a teacher's assistant. I was doubtful they would call me for an interview since I have been doing office work for so many years and I don't have any experience. Turns out, not only did they call me but they offered to train me so I can be a toddler teacher. Incredible!! I am in disbelief and so excited ... God is good !!! Irene R Fairfield CT
Denials in finding your destiny are often merely karmic delays. Sometimes, we need to develop practical life skills before we can go back to the things that we love and what makes our heart sing. Then we can become truly successful and fulfilled. So, if you are now seeking your destiny, then the time has come!
This essence fusion turns up the volume to your own unique calling. It is like an open sail that awakens your longing and draws you to what makes your heart sing and brings true fulfillment ... your destiny and spiritual purpose. Inspiration is the voice of Creator asking to act through you. It helps you find that place of belonging, passion and purpose. Don't hesitate to follow whatever inspires and ignites you
"I absolutely loved the positive effect the spiritual shift (Align to Your Destiny) essence had. It's simply amazing....I can't say enough to describe its powerful effects. The nice thing is that it also seems gentle for enabling such change ... I am noticing I am less resistant to opportunities that in the past I would've been too shy to experience. I am also more trusting that the outcome of things will be more positive. It's effective alright, and you are correct that it keeps working even after you stop using it." Terry M Reiki Master Ft Erie ON
ALIGN TO YOUR DESTINY is like an open sail that draws you to your destiny and spiritual purpose to help you enjoy true fulfillment. It strengthens your will to make choices more in alignment with your highest spiritual intention. It addresses unconscious past life issues and karma that are preventing you from stepping into your destiny, and enables you to receive on all levels. This powerful formula can be life-altering in the shifts it gently helps to facilitate!
"I felt and experienced improvements when using I Am Deserving and have just finished the wonderful Align to your Destiny, which I feel has been the most powerful for me so far." Nina L UK
When you find this purpose and excitement, your personality comes fully to serve the energy of your soul. The result is a powerful clarity, passion and enthusiasm awakening within you. Your life fills with meaning and purpose and you understand why you are alive. You discover your authentic power
Don't forget that finding your calling is only half of the formula. The next step is to instil the drive and ambition to pursue your calling. We recommend SUCCESS, STRENGTH & RESOLVE, EMPOWERMENT or PROACTIVE. The key to becoming successful doing what you love lies in being fully aware of what you really desire as reward for your work. So, always follow up with 'abundance' products such as I AM DESERVING, ABUNDANCE, FLOW or SUCCESS and repeat them once a month for 3-5 days to stay open to all that can be yours
Use for 21 days
30 ml $30