How to Choose Your Own Living Flower Essences
"The best way to let go of something is to reach for something new" Ruthie Hale
home > product information > how our products help > effortless change > how to select products > how to use products > our science > FAQ's > product rave reviews > our flower essences
With more than 100 flower frequency formulas available on our website, selecting the right flower essence remedies for your needs can seem daunting at first. But, getting the right remedies is very important to ensure the best results. So, our website offers 6 different ways to make it easy to choose the ideal essence remedies for your needs
1) Take the Happiness Quiz or the Quick Mood Test. These quick self-tests are fun and easy ways to see which areas of your life you need to work on. Both tests suggest remedies for your results
2) Don't know where to begin? Opt for a personal testing by photo and let us pinpoint the ideal essences for you. We offer 3 different price points to suit your budget and needs. One of the options includes personal coaching services to help you reframe your experiences and develop more positive ways of relating
3) Do-it-yourself testing using our amazing Testing Cards. It's a great tool to awaken self-discovery! The cards can be used in multiple ways. You can even use them to test other people. Results are highly accurate when used properly
Testing Cards feature 76 of our living flower essence fusions in full colour on 3.5" X 5" durable cards. Each card holds the frequencies of an essence fusion and has a full description on the back to help you pinpoint the right remedy for your needs. There are multiple ways of using the cards on yourself, to test others, and for divination. Instructions are included
Just $29.98!

4) Choose your specific emotional issue. We list various emotional issues alphabetically and provide suggestions for appropriate essence remedies for you
5) Choose by your health issue. We list a wide range of health issues and suggest suitable essences to address the emotional origin of your symptoms
6) Visit our essence fusions menu with more than a dozen different categories of essence fusions to assist you
Choose an appropriate topic, such as Heal Your Trauma, or Self-Image Issues. All the relevant essence fusions are listed in that category. Each of our formulas approaches the issue from a different perspective
How can you pinpoint which essence fusion will give you the best result? Read the descriptions, of course!
But, you'll also see beautiful images that represent each of our flower frequency formulas. Look at those images. You can almost feel their energy, can't you?
Which image catches your attention? Do you love it? Does it make you feel happier or more loving? Does it make you feel uncomfortable or ill?
If you love an image most likely it is one that most resonates with your own personal vibration. It represents your best and most ideal state of being. That essence fusion can bring you into very best self. Most likely the essence you have chosen is one designed to help you feel happier or more in balance
If you feel turned off by an image, or want to reject it, most likely you are fighting integration of those energies and really need that essence fusion to create a positive shift. It is likely an essence fusion that helps to overwrite the past, or deals with negative feelings or self-image--a stubborn trauma or self rejection you don't want to face or let go
It might be that in order to fully and more effortlessly release these issues without struggle you will need to take a control release formula first, such as CONTROL RELEASE or I AM FLEXIBLE to help you relax and release those painful feelings
Create your own protocols
You always want to start by removing the past--whatever trauma or learned habit that has been holding you back. Once you have overwritten the past, you want to fill back up with happy feelings, inner balance, and a positive self image to sustain you in the present. It's a 2-3 step process
For example, of you want to attract a loving relationship, you might take HEARTBREAK HEAL to release the pain and defensivenes of broken relationships from the past. Then you follow this with MY AUTHENTIC SELF so that you will stop acting in ways to elicit attention and love and instead become comfortable expressing your true self. The combination of the two can help to ensure you attract a more ideal partner who will love you for who you really are
In the case of a painful dysfunctional childhood, you might need to begin your protocol with CONTROL RELEASE. Control issues develop very early in life to help you survive in a less-than-loving home. Control issues instil self-limiting life-rules to help you feel secure (ie: "I can only rely on myself. Others will let me down." or "I have to be perfect to be love-able.")
Follow with DEEP WOUNDS OF CHILDHOOD or a more specific essence for childhood trauma. You can support your emotional release and instil a feeling of nurturing by also taking BE KIND TO YOURSELF at least 1/2 hour after your primary essence. The combination will instil a sense of loving nurturing that you never received
Always think in terms of the whole picture as well as what you want to create or experience in the end. We always include detailed personal instructions for you!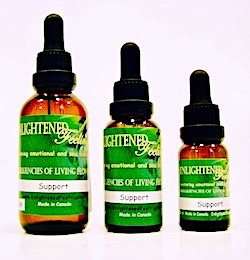 Which size bottle to choose?
For most people a 30 ml 21-day bottle of essence fusion will be sufficient to complete the desired shift. The change actually happens quite swiftly--generally in about 3-5 days. But, teaching your brain to accept this new positive way of feeling as a new habit pattern takes about 3 weeks, on average
About 31% of people will have a stubborn resistance to change and may therefore require 60 ml 40 days to affect a permanent shift or change in their way of thinking and feeling. 5% of people will need at least 66 days. Often the time can be shortened by using one of our control release formulas
Some of our essence fusions are designed to be taken for 21 days and then repeated once a month for 3-5 days to ensure you remain in a positive state of being despite life's unexpected occurances. We offer these essences in convenient 60 ml size
15 ml bottles are available for as-needed or 3-5 day essence remedies

Need Assistance? Contact Us in Ontario, Canada: Email Us tel: 1.519.586.2983