Welcome to Our On-line Store
Also shop for Remedies for Pets
We accept Visa or Mastercard. Please do not use debit-credit cards. They cannot convert international currencies to Canadian!
You can also pay by E-Transfer from Canada. We also accept International money transfers from USA through Wise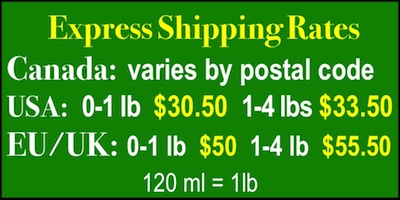 Prices are in Canadian $$ ($30 CAD = $22 USD)
Order 3 or more bottles at regular price and get 10% off your order! (*does not include sets or other discounted items) Use discount code 3PLUS
Shipping charges are added after checkout, when your package has been weighed
Problems with the shopping cart log-in? Use 'GUEST REGISTER' at the bottom of the sign-in
Need a little help to choose the essence fusions you need? Order a set of our testing cards! Also a great tool for practitioners!


Trauma Heal


Promotes gentle psychological healing after physical and emotional trauma or violation including Post Traumatic Syndrome, rape, incest, assault, intimidation and abuse of authority, or traumatic accident. Suitable for any kind of deep physical and mental/emotional trauma, where the trauma becomes energetically 'stuck'

Effectively releases trauma 'memory' from tissue in the body where it is being stored. Overwrites the emotional trauma to gradually restore wholeness and well-being

Use for 42 days 60 ml $50

$50.00



Trauma Protocol


A powerful multi-step protocol to help gently and effortlessly release the emotional, mental and physical debilitating effects of deep trauma or all kinds, including sexual or physical abuse, psychological abuse, accident trauma, war conflict, and Pandemic Post Traumatic Syndrome

Set consists of 60 ml Control Release ~ 15 ml The BIG RESET ~ 60 ml Trauma Release ~ 60 ml I Am Not a Victim

$149

| | |
| --- | --- |
| Orig.: | $165.00 |
| Sale: | $149.00 |



Uplifting Confidence


Boldly instills feelings of self-worth and confidence. Ideal for starting a new endeavor, sales, stage fright, bullying in the workplace, or increased confidence at work and in social situations

Suitable for Children. Specify if ordering for children, as dosage will be lower

21 days + repeat once a month for 3-5 days 30 ml $30

From $30.00



What Really REALLY Bugs Me...sometimes


An ideal companion for any of our children's essences!

Children's personal creative journal that sets your child on a remarkable path of letting go of the upsets and frustrations of life in a healthy, harmless, fun way through an interactive Art from the Heart Adventure

Fun and easy to do, requires no art skill, and best of all, the drawings your child makes can be very insightful for you as a parent. Each book comes with suggestions for implementing this book into your child's life, plus a 3-week program to help children and/or parents develop this positive habit as part of their daily routine

Discontinued On sale for $15

| | |
| --- | --- |
| Orig.: | $29.98 |
| Sale: | $15.00 |



Womb Heal


Promotes gentle psychological healing after miscarriage, hysterectomy, or abortion. May promote menses. Do not use if pregnant or nursing

Use for 21 days. Do not repeat 30 ml $30

$30.00



Women's Vitality


Designed for women whose emotional issues, intense sense of family responsibility, and over-nurturing of others have manifested into the physical as thyroid issues, weight gain, low energy, edema, hormonal issues or menopause. WOMEN'S VITALITY helps to restore energy and vitality and promotes self-care

Use for 21 days. Repeat if needed 30 ml $30

From $30.00



Worry FREE


Quells worry and allows you to stay in the moment and stop fretting. Helps you feel Divinely protected and in the now. Helpful for anxiety

Use as needed 30 ml $30 ~ 60 ml $50

From $30.00



Young At Heart


An uplifting lighthearted playful feel-good essence that is rather reminiscent of what it felt like when you were youthful and carefree. Opens you to pleasure

Use for 3-5 days as needed 15 ml @ $15 ~ 30 ml $30

From $15.00



Zen


Instills a deep serene, zen-like peace and inner balance. Provides profound stress relief

Also suitable for children. Our children's version of 'Stress Buster'! Zen instills calming relaxation. May be especially useful at bedtime for fussy children who don't want to go to bed! Specify if ordering for a child, as directions and dosage will be different

Use as needed 15 ml $15 ~ 30 ml $30

From $15.00
Copyright 2009. Last updated September 2022. All rights reserved. No parts of this website or its contents may be copied or quoted without the express written permission of Lori D'Ascenzo
Enlightened Feelings
located in beautiful Long Point Beach world biosphere, Norfolk County, Ontario N0E 1M0